Rosemarie Fiorilli has over 20 years experience successfully building brands and organizations for both public and privately held companies including Nestlé, Nabisco and Chanel. She is an experienced senior operating executive, business advisor and executive coach with strong general management, strategy formulation, financial and leadership development expertise. Rose has been quoted by The Wall Street Journal in multiple articles concerning high potential managers and senior executive presence and signaling.
Rose's significant corporate business experience includes several rigorous line financial management roles at two highly respected global consumer products companies, Nestlé Food Company and Nabisco Holdings Corp. She subsequently led both financial and strategic planning for Chanel USA, the $500 million U.S. affiliate of the global luxury goods firm, overseeing significant portfolios of premier fragrance, cosmetics and fashion brands. Her emphasis on premium brand equities continued when she was appointed Sr. Vice President & General Manager at a major operating division of F. Schumacher & Co., a leading high-end fabric, wall and floor covering, furniture and decorative accessory firm.
After gaining diverse industry experience and skills, Rose fulfilled a long standing entrepreneurial ambition by founding a business advisory and executive coaching firm, Rubicon Advisory Group, LLC, in 2003. Her recent engagements include broad-based, organizationally complex leadership, acclimation and career transition coaching with a diverse group of senior corporate executives, entrepreneurs and high potential talent in the media, entertainment, technology, publishing, financial services and luxury goods sectors.
Trained first as an engineer, later as a financial executive and strategist, and most recently immersed as a leader in exceptionally creative environments and corporate cultures, Rose is uniquely qualified to enhance the highly creative individual's focus on and understanding of significant business concepts and issues, while enabling analytical individuals to think and act in more innovative, non-traditional ways. Her specific areas of expertise include brand positioning and pitches (for individuals, firms, services and products), strategic assessment and visioning, objective setting, execution plan and metric development, as well as ongoing leadership coaching and business mentoring. Rose's corporate clients include senior executives at ABC, Amazon, BBC Worldwide, BMI, BNY Mellon, Booz Allen Hamilton, Calvin Klein, Clarifai, Condé Nast, Coty, Credit Suisse, Discovery, Estée Lauder, EY, Frog Design, Gannett, Grey Global Group, Guardian Media, HBO, Hearst, Interbrand, Interpublic Group, Macmillan Publishers, Mars, McKinsey, Meredith, Morgan Stanley, MTV, Nasdaq, NBCUniversal, Ogilvy, Pandora, PBS, Publicis, PwC, Saks Fifth Avenue, Sirius XM, Sony Music Entertainment, Starbucks, TEDMED, The New York Times, The Orchard, Time Inc., 21st Century Fox, Universal Music Group, VH1, Viking Press, WeWork, WME and Zillow, among others.
Rose earned her B.S. in chemical engineering from Lehigh University and her MBA from the Wharton School of the University of Pennsylvania. She has served as Board Trustee and Chairman, Interiors Committee for Morris-Jumel Mansion, the oldest house in Manhattan (ca. 1765), and is an enthusiastic collector of early American decorative and fine arts, particularly those of the federal period. Rose and her husband live in Manhattan and are currently restoring Rubicon, an early 19th century home and barns in Litchfield County, CT.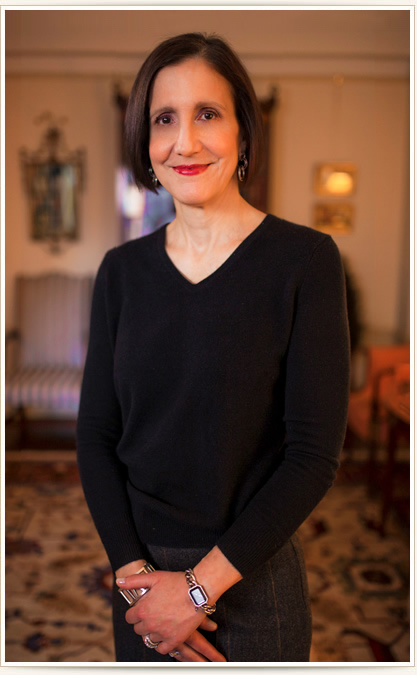 Photo by John Frattasi